Broken Arrow Countertop Resurfacing
Do you have a worn-out countertop that needs to be refinished? You may consider the option of resurfacing it. Resurfacing is essentially covering over your existing countertops with new materials, creating an entirely new look for much less cost than installing replacement material.
Bear and Bison wants to help you resurface your countertops. We are passionate about creating a beautiful finish that lasts and is durable. We know countertops can be extremely time-consuming for a homeowner to repair on their own. In addition, the cost of buying a new countertop and getting it reinstalled can be astronomical!
Here at Bear and Bison, we are passionate about giving you a wonderful finished product for a great price. We consider ourselves to be the experts on resurfacing. So if you are in the Broken Arrow area and need your countertops resurfaced, please reach out to us! We would love to serve you.
Contact Broken Arrow Countertop Resurfacing Specialists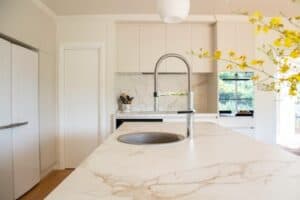 If resurfacing is something you are considering for your Broken Arrow Countertop, contact Bear and Bison Resurfacing Specialists today.
Bear and Bison is the industry leader in resurfacing, offering a wide range of services to meet your needs.
Whether you are looking for wood, tile, or quartz resurfacing in Broken Arrow, no one is better qualified to make your counters look brand new.
Broken Arrow Countertop Resurfacing is made easy with Bear and Bison. We offer resurfacing services for various materials to create a new look. Our technicians are trained to give you an expert finish so your counters will be durable and beautiful for years to come.
We have been refinishing kitchen countertops since 1996 and all of our contractors are fully insured. We use only high-quality products that will hold up for years and look amazing.
We can refinish your countertops in as little as one day so that you can have a beautiful new surface without the hassle of a long installation process. We know your time and money are precious, so we make it our mission to honor that!
Your Satisfaction Guaranteed
We are rated  A+ by the BBB and we offer a 5-year warranty on all of our work. We also provide free quotes and estimates in Broken Arrow, OK. Our specialists work with each client to determine what they envision for their countertops and are passionate about bringing their wishes to life. Customer satisfaction is what we do well.
Our customers are thrilled with the results they get from our countertop resurfacing in Broken Arrow, OK and we guarantee that you will be too.