Tulsa Apartment Complex Countertop Resurfacing
When you are looking for a change, remodeling your home can be a great option for many as it offers you a change in environment and a new space to live. However, for many, remodeling is not an option due to its expensive price tag.
If you are looking to give your home a new look without spending a fortune, then resurfacing might be the answer for you! At Bear & Bison Resurfacing Specialists LLC., we believe any home can be transformed by resurfacing.
By avoiding costly demos and full remodels, resurfacing with Bear & Bison is a great option for any homeowner looking to give their home a new, modern look. Our services can fix small damages like chips, scratches, or cracks and can improve the durability and longevity of many surfaces within your home!
As a locally owned business, we believe we are capable of making any Tulsa home look and feel like new with our resurfacing services. Whether it be in your kitchen, bathroom, or somewhere else within your home, you can be confident that Bear & Bison can make your dream home become a reality!
To learn more about how we can give your home the contemporary feeling you have been craving, contact us today and receive a free estimate on your next project!
Apartment Complex Countertop Resurfacing Services in Tulsa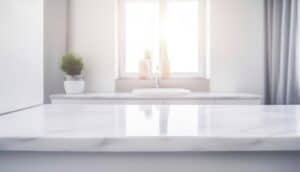 At Bear & Bison, we are able to offer our resurfacing services in your kitchen and bathroom, and so much more!
We can even resurface countertops in Tulsa apartment complexes, offering monthly or yearly contract options that suit your client's needs!
This is a great option for any apartment rental property as it can provide new tenants with a clean and fresh apartment without having to spend money on a costly renovation.
Other services we provide in addition to our apartment complex countertop resurfacing include:
Kitchen Counter Resurfacing

Kitchen Backsplash Resurfacing

Bathtub Repair

Bathroom Counter Resurfacing
Tulsa Apartment Complex Countertop Resurfacing Specialists
With over 20 years of experience, we are confident that we can refinish any surface in your bathroom or kitchen! We pride ourselves in our ability to offer Tulsa affordable options that give your home a new feel at a fraction of the price!
Traditional home renovations can cost you a significant amount of time, money, and resources, and working with us helps you get rid of the worry and headache this can cause.
With our ability to resurface countertops, backsplashes, tubs, vanities, and so much more, your imagination is the limit when it comes to ways we can offer your home a brand-new look.
When performing each of our services, we ensure that we pay attention to each detail from beginning to finish, guaranteeing that we provide you with exceptional resurfacing services that will make you love the way your home looks.
If you are looking for an affordable way to give a new life to your space, do not hesitate to contact us today!