Tulsa Rental House Countertop Resurfacing | Bear & Bison Resurfacing Specialists
Tulsa Rental House Countertop Resurfacing
If you are looking to give your home a fresh new look, you might have considered redoing your kitchen, bathroom, or other parts of your house. These spaces are important within your house, but are often expensive to remodel, leaving many to miss out on revamping their homes. However, resurfacing can be a great answer for many as it is an option that offers you a new and modern look at a fraction of the price!
At Bear & Bison Resurfacing Specialists LLC., we understand how important it is for our clients to receive their dream space and will pay attention to every detail during your resurfacing project, making sure our work is perfect from start to finish!
By resurfacing your kitchen, bathroom, or other space, we can provide you with the contemporary look you have been craving without costing you a fortune. We are even able to offer small repairs to damages like cracks or chips on refinished surfaces.
As a locally owned business, we are proud to say that we have helped many Tulsa homeowners update their homes into the space they have always dreamed it to be! With the ability to transform your home at a fraction of the cost, Bear & Bison is the best in the business when it comes to offering rental house countertop resurfacing services in Tulsa that will improve your home.
Rental House Countertop Resurfacing Services in Tulsa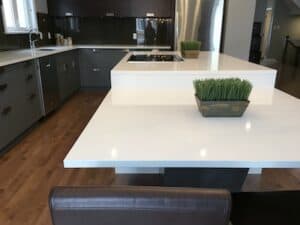 At Bear & Bison, we offer a variety of resurfacing services in your kitchen, bathroom, and so much more to ensure you are able to make your dream home a reality.
We are even able to offer our services to those living in a rental home, with monthly and yearly contracts that fit tenets' needs!
This can be a great option for landlords looking to update a property or for current residents looking to bring a new life into their space! It is an especially great option for countertop resurfacing as it can make a used and worn kitchen feel brand new again.
Additional services we also offer that provide the same great end results include:
Kitchen Counter Resurfacing

Bathtub Repair

Bathroom Counter Resurfacing
Tulsa's Experts in Rental House Countertop Resurfacing
With over 20 years of experience, our Tulsa rental house countertop resurfacing experts are knowledgeable and ready to provide you with amazing services that will make your space look and feel so much better.
Whether it be a countertop, backsplash, vanity, bathtub, or anything else, we have the expertise to deliver you dependable resurfacing results that will look great and improve the durability and longevity of the treated surface.
Most jobs we complete only require a few hours as well, saving you time and money when you choose to resurface with Bear & Bison. And if you are still not sold yet, we are also able to provide free estimates on the space you are considering resurfacing, making working with us an easy commitment that is transparent and honest.
With fantastic services, experienced employees, and a dedication to saving our clients time and money, Bear & Bison is a great choice for any homeowner or renter looking to give their home a new look for a reasonable price.