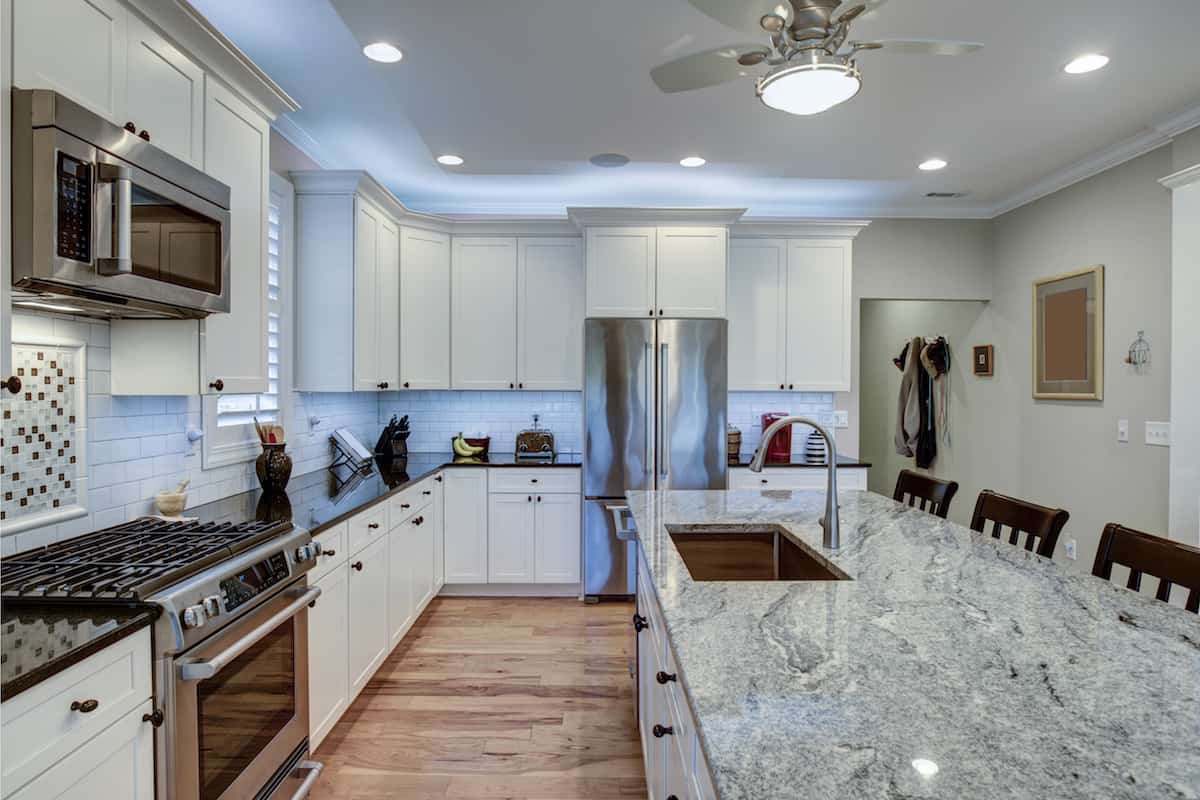 07 Feb

6 Best Countertop Materials That Withstand the Test of Time
What Are the Best Countertop Materials? The 6 Best Countertop Materials That Withstand the Test of Time
Within the past few weeks, I have wanted to redo my kitchen but have wondered about what the best countertop materials are. I wanted something durable but would still look great in my kitchen, so I did some research and found some pretty amazing options! It turns out there are several options when it comes to beautiful countertop finishes that will last for years, here are the top 6 of my favorite countertop finds! So, what are the best countertop materials? 
The best countertop materials that withstand the test of time include finishes of quartz, granite, soapstone, limestone, marble, and laminate and it is because of their durability. Each of these materials is known for its strength and quality characteristics and has proven that they are the best when it comes to picking a countertop that will withstand the test of time.
All of these countertop finishes stood out due to their durability and each has qualities that make them great options when it comes to deciding what materials to use in your kitchen. Each has a different look to it, as well as different pros and cons that are helpful when it comes to deciding which finish is the right one for you. By assessing how you use your kitchen and what countertop characteristics will best suit you and your home, utilizing this list of countertops should be a great way for you to decide which material is right for you!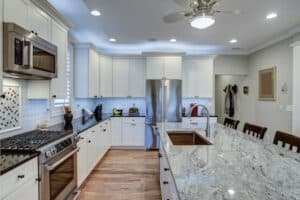 Pros of Each Countertop Option
Each of these countertop materials is great in its own unique way, and these traits can help you decide which one will work the best for your kitchen.
To start, quartz is one of the best materials you can choose when it comes to countertop materials. It is extremely durable, heat resistant, low maintenance, and resists stains, and cuts.
Granite is also a great option for those looking for something unique while still maintaining durability. With different patterning and finishes, granite is a good option for people looking for a countertop that is beautiful and heat, cut, and stain resistant.
Soapstone, limestone, and marble also have beautiful natural qualities and strong finishes. These materials are typically heat resistant as well and small nicks or scratches can be repaired by simply being sanded away.
Laminate is my final choice for strong countertop materials. As it is a finish that is inexpensive while still being heat and stain resistant, making it a great option for anyone looking for new countertops on a budget. With these amazing and durable characteristics, it is easy to see why these countertop finishes can be seen as the best when it comes to finishes that will last in your kitchen.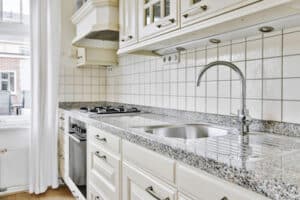 Cons for Each Countertop Option
While each of these countertop finishes has amazing and durable characteristics, they still do have some issues that should be considered before making the final decision for your kitchen. For example, quartz can still be prone to chipping and damage at its corners and edges, making it need repairs if this chipping is to get severe enough. That's where you would need a team of countertop resurfacing experts to repair it, rather than replace it.
Granite can also face issues like chipping and also needs to be resealed from time to time. This is to ensure it maintains its stain resistance.
Soapstone, limestone, and marble are also subject to scratches and nicks more than the others, and marble is less heat resistant compared to its counterparts.
Finally, laminate can also be easily damaged when being cut directly on with a knife, requiring you to use a cutting board at all times. Characteristics like these and others should always be considered when making such an important decision for your home as making the wrong choice can lead to more issues with your countertops down the road.
What Are the Cheapest Kitchen Countertop Options?
Laminate countertops are typically the cheapest countertop options. They are typically significantly lower in price when compared to stone or wooden countertop finishes and still maintain a strong build and quality. This is because laminate is composed of particleboard and plastic layers, making it a durable option made of inexpensive materials.
How Do I Know It Is Time to Replace My Countertops?
There are many clear signs that present themselves when it comes time to replace your countertops. These include irreversible damages that cannot be fixed such as erosion, cracking, burns, and discolorations. Damages like these often cannot be corrected. So when one or more begin to show on your countertops, it is often a sign that it is time to refinish or replace your countertops.